Whether or not you like the metalcore band Bring Me The Horizon, frontman Oli Sykes' Drop Dead clothing brand is pretty kick-ass. It's kind of like someone injected some real attitude into the pretentious A&F brand. Now, touching on three aspects close to our hearts at Yell! Magazine (music, gaming, and alternative fashion), Drop Dead has partnered up with SEGA to bring to life the SEGA Mega Drive Apparel Collection.
The collection of three limited-edition T-shirts draw inspiration from three of SEGA's biggest games: Ecco the Dolphin, Golden Axe, and Streets of Rage. (The hours upon hours I spent playing Golden Axe.) But if you select to buy one of these t-shirts, you'll be getting more than just an awesome garment, you'll also get some cool packaging, which resembles the original game boxes and cartridges.
About Drop Dead's partnership with SEGA, Oli said:
After growing up playing Sega Mega Drive with my brother, I'm really excited to have been able to officially collaborate with this legendary name in video gaming.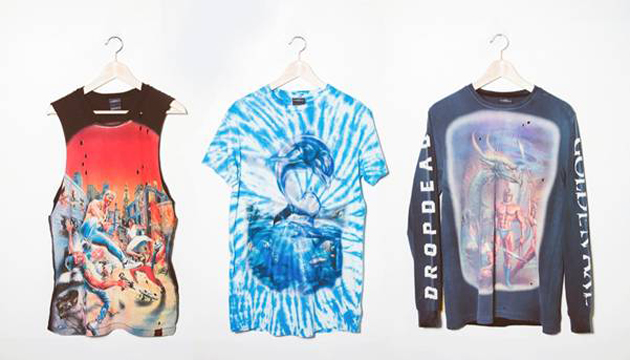 Sissel Henno, Head of Brand Licensing at Sega Europe Ltd. also commented on the joint effort:
We're really excited to see Drop Dead develop a range of clothing based on our famous retro brands. I'm confident that these unique designs will get a warm reception from our core fan base.
If you're digging the Mega Drive Collection as much as we are, you'll want to circle December 10th, when the T-shirts become available online. If you happen to be in the London area, drop by the Drop Dead bricks-and-mortar store on December 7th to make your purchase.
Rock Hard \m/