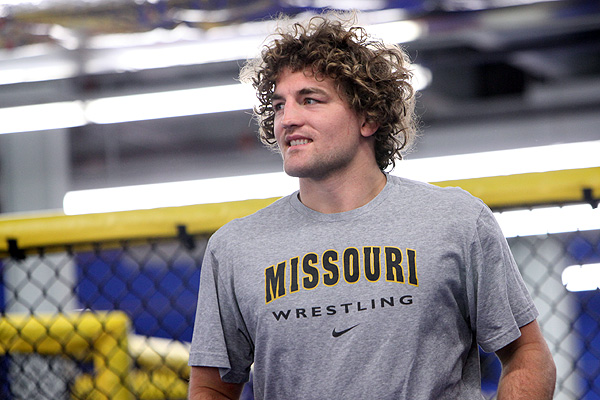 Last week, we reported that UFC President Dana White finally had a change of heart for former Bellator welterweight champion Ben Askren (14-0). To recap, White said during the UFC 177 post-fight presser that he is willing to give Askren a shot in the UFC, if he keeps winning his fights.
A few days later, a less than impressed Askren responded on the newest episode of The MMA Hour with Ariel Helwani, who revealed his thoughts about the UFC as a whole, including the company's talent pool.
It's kind of like all of us had that time in high school when we were bullied by the cool group of kids. Then we did something, then the cool group said 'oh my god, can you be part of our group?' Then some of us who didn't have low self-esteem said 'well, you didn't want me the first time, I'm alright.' Then some other people, they run, 'the cool kids want to hang out with me? Yes, please.' I think it's kind of one of those things.
Last year, White declined to sign Askren because he didn't believe he was good enough to compete in the UFC. Now, the tables are turned. Askren thinks the UFC lacks talented fighters. The former amateur wrestler believes he has more skills then half of them in his "pinky finger."
Him saying I'm not good enough for the UFC? I've got more skills in my pinky finger than half the damn guys in the UFC. Have you seen some of these guys fighting lately? It's ridiculous. Having the letters UFC behind my name is not the be-all, end-all it is for someone. Some people think once they get into the UFC, that's it. I think with having more large organizations in the word, it's going to be great for the fighters, because the right now the fighters are being underpaid greatly, in my opinion, and I was one who was able to step outside that box and go find a great paycheck somewhere else.
As the current ONE FC welterweight champion, Askren clearly gave the impression he's good hands and is in no rush to join the UFC anytime soon. However, the door isn't shut just yet.
I'm not going to grovel, I'm not going to be a kiss-up. I think he started with the personal attacks before I did. … If he wanted to meet face to face and talk, we could settle the beef, I'd be open to that.
What do you think? Does Ben Askren have the right skill set to be a champion in the UFC one day?